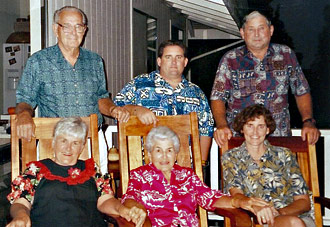 We are a multi-generational family farm! Bill and Diane own the original farm. Suzanne and Jacque, are on farm nearby and manage all farms as one under the Lions Gate brand.  Bill Jr. helps with the ever-ongoing farm construction/repair activities.  And now, the third and fourth generation, Maile and great-grandaughter Mai also have a farm.  Our elders, Barbara and Ken have both left us now, but many of our visitors may remember "Gram" from our phone line and "Gramps" if they took a tour.
About the Farm
We are a 15-acre working farm in South Kona on the Big Island of Hawaii. We currently have 12 acres of coffee, and 3 acres of macadamia nuts, both of which we sell commercially.
In addition, we grow numerous tropical and subtropical fruits including papaya, guava, mango, pineapple, oranges, coconut, banana, jaboticaba, passion fruit, avocado, , blood orange, Kau orange, tangelo, tangerine, ruby red grapefruit, lemon, lime, atemoya, jabon (Chinese grapefruit), cinnamon, and surinam cherry. These are grown for our personal enjoyment and are not sold commercially.
We also have many tropical decorative plants as well, including bromeliad, fascinating heliconias, several varieties of ginger, anthuriums, orchids, bird of paradise, plumerias, pointsettias, jasmine (pikake), bamboo, tube rose, many varieties of palm, ti, croton, angel trumpet flower, diffenbachia, scheleria, bougainvilla, gardenia, cycads, and hibiscus.
Coffee has been farmed at Lions Gate for over a century and we process our coffee in the original mill that dates to 1942. We frequently find antique bottles and cultural relics that date back to the late 1800's and beyond. In addition there are rock mounds running from the mountain to the sea that were a part of the ancient Hawaiian Ahupua'a farm system. This area of Honaunau has been farmed for hundreds of years!
Farm Tours
We have permanently closed our farm tour operation.  Pickup of coffee and macadamia products is available via pre-order. Use the "pick up" option on the checkout page and please give us a few hours notice. We're very sorry about the inconvenience!